Codemasters have today unveiled the next installment in the GRID series, GRID Autosport.
GRID Autosport has been fully focused on from fan feedback in previous GRID titles and looks to get the series firmly back into its roots as a more authentic racing game. The favorite Cockpit view also makes a return in GRID Autosport, whilst also bringing a dashboard view.
The development team have put a lot of work this year into the handling, in turn giving out a more authentic handling style. Although not full simulation, GRID Autosport will be authentic enough to really make you believe you are behind the wheel. Each car in the game will have it's own unique personality, just like in real life. For example, pick up a WTCC spec Touring Car and it'll feel completely different to a Formula 3 car.
Racing Disciplines is another feature that has been worked on. These are different types of motorsport, for which the game includes five. A touring car race and an Endurance race will come needing a completely different approach, style and strategy.  Endurance races will require players to manage tyre wear, whilst Street Races will be all about reacting on the fly on claustrophobic streets through cities with unpredictable changes in elevations and drift cars are all about demonstrating your car control.  There will be a dedicated amount of series within each discipline including Touring Cars, GT, Single-Seaters, Muscle Cars, Drift, Supercars, Hypercars, Time Attack, Prototypes and many more.
GRID Autosport will come featuring 22 locations with over 100 grid routes. These include iconic circuits to series favorites, giving GRID Autosport more circuits than both GRID and GRID 2 combined!. The career mode is also back which lets players become a professional racing driver, whilst having the ability to join and switch teams, fulfil sponsor demands and beat rivals. Due to much request, the ability to race with a teammate is back in GRID Autosport, and your teammate can attack the cars ahead or defend their position. All this is handled by a simple button press on the controller and it's a feature that will also allow you to request information from your team engineer. You will be able to race in the disciplines that only you enjoy, giving you freedom of choice along the way.
One of the features that players will be using alot is the Paddock menu. You will find yourself here before a race, giving you pre-match options which include qualifying and practice.  You will also be able to tune your car before racing. Tuning options include brake bias, differential, downforce, gears, ride height and suspension at both the front and back.
The multiplayer section is again powered by the fantastic RaceNet, allowing players to  form Racing Clubs and race under team colours against other clubs in the community. Receive new challenges every week with the new and evolved Discipline Challenge, track your stats including your complete vehicle history and climb weekly and persistent leaderboards.
GRID Autosport is set to be released for the PlayStation 3, Xbox 360 and PC on June 27th. A trailer has also been released. Be sure to let us know your thoughts on the GRID Autosport announcement via the comment section below.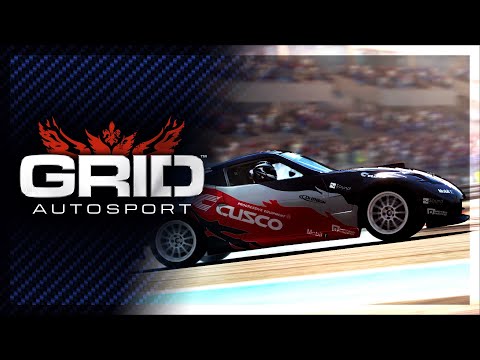 Tweet this!